include ("common_short.php"); physics_header("",""); ?>
Dick Furnstahl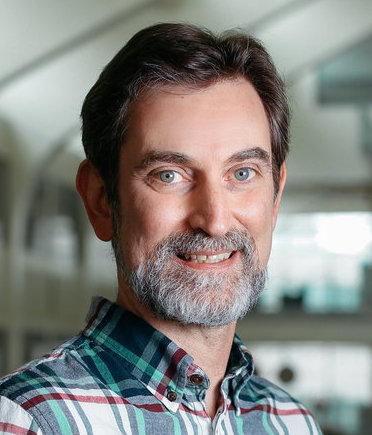 Who I am . . .
Name: Richard J. Furnstahl
Title: Professor, Department of Physics
Degrees: B.S. MIT, 1981; Ph.D. Stanford University, 1986
Spouse: Terri Stankiewicz
Where I am . . .
Office: M2048 Physics Research Building (mezzanine, not 2nd floor)
Office phone: (614) 292-4830
Fax: (614) 292-7557
Department address: 191 W. Woodruff Ave., Columbus, OH 43210
Email: furnstahl.1 at osu.edu
What I do . . .
Group: Nuclear Theory Group
Research interests:

effective field theories and the renormalization group for few- and many-body nuclear systems
nuclear many-body theory
quantum chromodynamics and nuclear phenomena
Bayesian statistical methods, computational methods and high-performance computing
physics education, particularly for upper-level physics courses

Current graduate students:
Former graduate students:

Eric Anderson, graduated with PhD 2012, Eric.R.Anderson at dynamics.cc
Anirban Bhattacharyya, graduated with PhD 2005, anirban6 at gmail.com
Alex Dyhdalo, graduated with PhD 2018, dyhdalo at gmail.com
Eric Jurgenson, graduated with PhD 2009, jurgenson2 at llnl.gov
Sushant More, graduate with PhD 2016, sushant.2811 at gmail.com
Alex Perhac, graduated with MS 2016, perhac.1 at osu.edu
Sunethra Ramanan, graduated with PhD 2007, suna at cts.iisc.ernet.in
John Rusnak, graduated with PhD 1997, john.j.rusnak at att.net
Negussie Tirfessa, graduated with PhD 2001, intirfessa at mcc.commnet.edu
Kyle Wendt, graduated with PhD 2013, kylewendt at gmail.com
Sarah Wesolowski, graduated with PhD 2017, sarahcwesolowski at gmail.com
Trey White, graduated with MS 1996, whitejbiii at ornl.gov

Courses in 2011-2019: Analytic and Numeric Methods of Physics [Au11,Au12,Au13], Computational Physics (6810/780.20) [Wi11,Wi12,Sp13,Sp14,Sp16,Sp17], Physics H133 [Sp11,Sp12], Nuclear Few- and Many-Body Physics[Au14], Topics in Nuclear Physics[Au15,Au17], Theoretical Mechanics (5300) [Sp18,Sp19]
Department Committees: Climate and Diversity Committee (chair)
More information . . .
Selected preprints and publications . . .
A (mostly) complete list is available from INSPIRE.
---
Dick Furnstahl's Home Page. Last modified: .
furnstahl.1@osu.edu