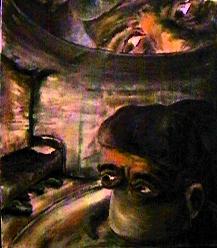 ---

All Images Copyright 1995 Matthew Lewis.
All rights reserved. Comments and information requests to

mlewis@cgrg.ohio-state.edu. See what others thought in the Comment Book.
---
This collection of images was created in oil on canvas as a storyboard for an animation of a skeptic nightmare. Inspiration was drawn from the current interest in mind/body implications imposed by contemporary virtual reality implementations.
My primary interest in presenting these images on the World Wide Web, however, was to obtain a measure of the quantity and quality of artistic feedback obtainable from the net community.
To this end, please feel free to leave comments, questions, or suggestions in this digital Comment Book, or mail me directly.
Finally, for those interested in such things, here are the programs which generated the gallery environment and the gallery web pages.

Matthew Lewis
The Advanced Computing Center for the Arts and Design