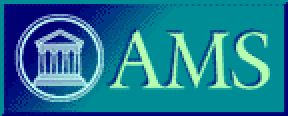 The 969th AMS Meeting (Central Section)
Columbus, Ohio. September 21-23, 2001
THE MEETING is ON !!!
After consulting with many of the people involved, we have decided that the AMS meeting at OSU in Columbus on 21st-23rd September is definitely going ahead as planned. Although we know that because of the tragic events of last week some people will not be able to come, we feel that it is very important that "activities go on ". Many of the participants plan to come and we are sure it will be a very good meeting. We look forward to seeing you this weekend in Columbus.
Best wishes
Susan Friedlander
AMS Associate Secretary
The 2001 Fall Central Section Meeting of the American Mathematical Society
(Meeting #969) will be hosted by the Department of Mathematics
of the Ohio State University, Columbus, Ohio.