A Numidian Coin from Deer Creek, Ohio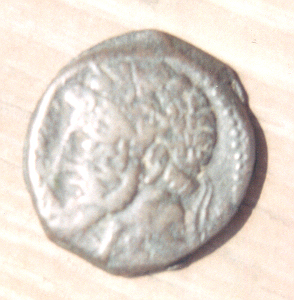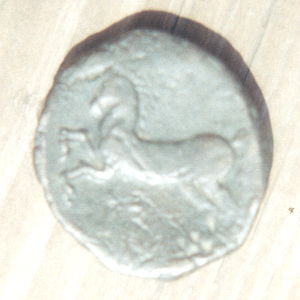 Photo Beverley H. Moseley, Jr.

In Spring of 1967, Mr. Gene Elliott found an unusual coin while hunting for Indian artifacts along Deer Creek in Ross County, Ohio. Elliott sent photos of the coin to the British Museum, who told him it was of North African origin, but unfortunately he lost the original, and does not recall the details precisely. He later contacted the late Victor Moseley, then president of the Midwest Epigraphic Society, who forwarded photographs to Barry Fell. Fell identified it as a coin of Micipsa, who was King of Numidia (in present day Tunisia and Algeria) from 148-118 B.C.

The coin is considerably darker than it appears in the above photographs, which were taken in bright sunlight. It is 25 mm. in diameter. Although a Cincinnati jeweler at one time told Elliott that the coin was gold, it appears to be bronze or perhaps lead, and is very similar in style to other bronze, copper and lead coins of Micipsa depicted at the Wildwinds website. It is rather heavy, and has an unusual angled flat spot over the head.

The beginning of Micipsa's rule coincided with the final seige of adjacent Carthage by Rome during 149-146 B.C., and was a time when Carthaginian refugees might have been eager to flee from the long reach of Rome. For details of Micipsa's reign, see e.g. the Wiki Classical Dictionary article at http://www.ancientlibrary.com/wcd/Micipsa. In Micipsa's day, Ross County was a major center of the Adena and Hopewell cultures.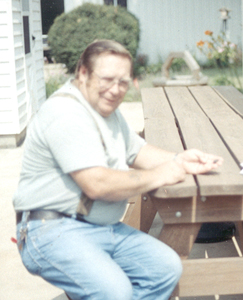 Gene Elliott, with the coin he found in 1967.
Photo July 2001, Beverley H. Moseley, Jr.

The coin was found in a plowed field about 3-4 miles above the confluence of Deer Creek with the Scioto River, and about 2 miles above the famous