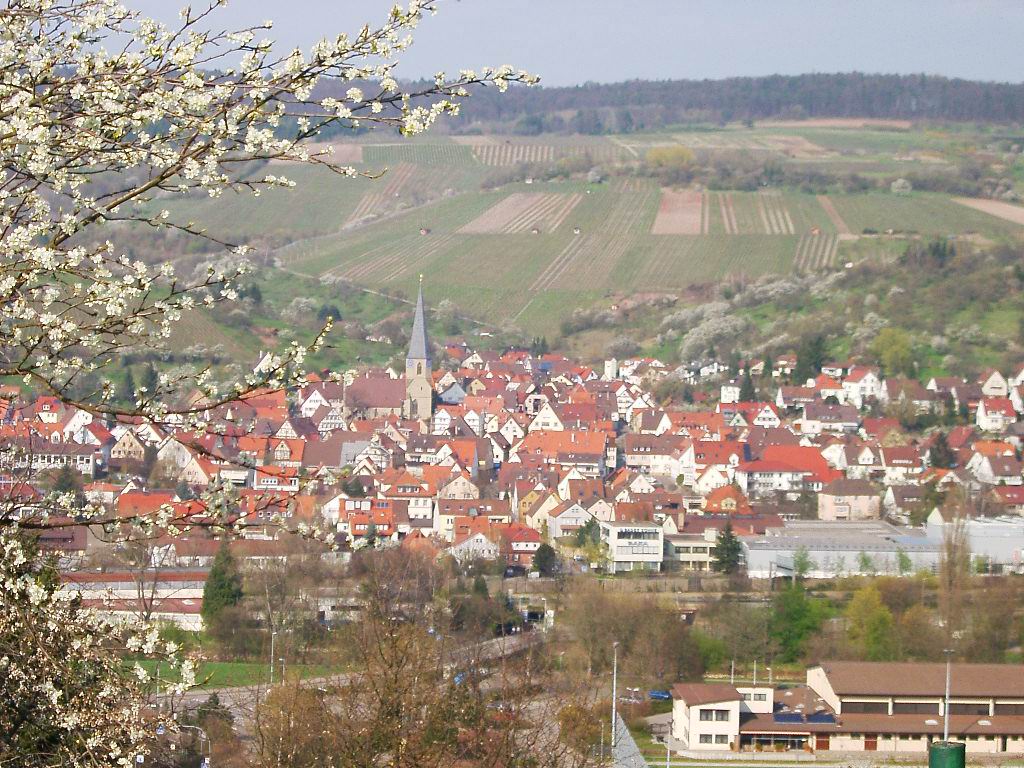 We thank Manfred Haufler for this fine picture of Geradstetten. For more Geradstetten pictures, please see:
A Walking Tour of Geradstetten
For a list of emigrants from Geradstetten to the U.S., 1804-1928, please see:
Emigrants from Geradstetten to the U.S. 1804-1928
Here and in some pages linked to this page we gather some background material on Geradstetten, the town where my parents were born. East of Stuttgart, in the southwestern German State of Baden-Wuerttemberg, Geradstetten has a rich history going at least to year 1200. For most of this time Geradstetten was an agricultural community, with wine the most important product, along with fruit, vegetables, and the usual cows, pigs, and chickens for local consumption. Common to this area of southern Germany, the houses are tightly clustered around a center including church, schools, and shops, with the fields a patchwork of plots outside the town proper. The current population is around 5000, but historically it varied from about 500 in the1400's (when it first had its own church) to around 1200 in the 1850's to around 2500 in the 1920's.
Geradstetten has joined with several neighboring villages to form the subdivision of Remshalden, which has an excellent website with many links to area attractions.
Here is a map link to orient Geradstetten with respect to the nearest large city, Stuttgart:
There are many sources on the history and sociology of Geradstetten. Here we rely on two main sources, the first a set of books by Han Rilling: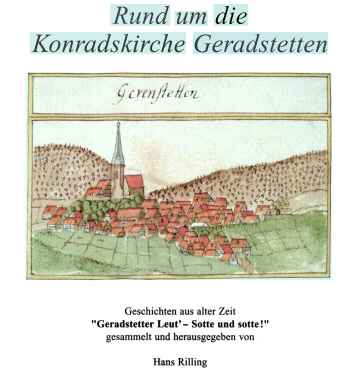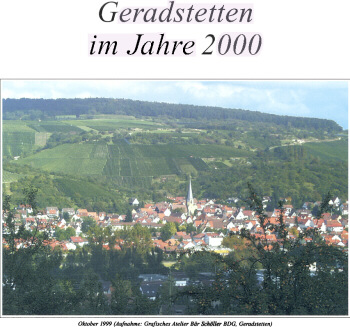 Front and Back Cover from the volume "Geradstetten Folks -- It takes all Kinds" by Hans Rilling. These are reproduced here with the permission of Herr Rilling, who has done a marvelous job of researching the history and sociology of Geradstetten. We are currently translating several excerpts from his works. For a short biography and list of his Geradstettn publications, as well as excerpts from them, please visit the following links:
Biography and Geradstetten Publications of Hans Rilling
Han Rillings's Social History Sources of Geradstetten History From the Proceedings of the Church Court 1707--1847

Hans Rilling's Stories from the Old Days: "Geradstetten Folks: It takes all kinds!
Introduction--Contents, Translator's Preface, Author's Forward, Short Geradstetten History
Two Letters of Settlement 1515 and 1536
Pastor Jodocus Vochenzer in the "Interim" 1550
Two Pig-headed Schoolmasters about 1600
Pastor Johannes Brand 1656-1661
Abbot Johann Adam Lederer 1692-1774
Teaching Assistant Johann David Krauss 1776
Schoolmaster Georg Michael Mayerlen 1742-1809
Surgeon Johannes Muehlecker 1720-1778
Duty Assignments in the Town of Geradstetten 1830
Johann Friedrich Heigelin, M. A. 1765-1845
Pastor Gottlieb H. Wittich, M.A. 1836-1844
Four Insubordinate Young Schoolteachers 1838
Mayor David Friedrich Lederer 1812-1847
Hans Rilling's Events from Geradstetten History: Who Woulda' Thought
Introduction--Contents, Translator's Preface, Author's Forward, Short Geradstetten History
First Mention of the Town Name of Geradstetten 1291
Establishment of an Independent Parish 1496
Revenue Book of the Geradstetten Pastorate 1532
The Turkish Tax Levy in Geradstetten 1544/45
Establishing a School In Geradstetten 1559
From an Old Town Ordinances Book 1576
Renovation of the Church Steeple 1577
Geradstetten Family Names in Early Times about 1649
Border Marking Stones of the Township about 1649
Report of the Famine and Hyper-Inflation 1816
Setting Up a Citizen Militia 1847
Diligent and Lazy Workers about 1891
The other source that we rely on is a series of articles in a booklet "Heimattage Geradstetten 1960," from which the pictures below were gathered. On the occasion of a four-day festival, Hometown Days 1960, the town of Geradstetten published a handsome 100 page booklet which includes a charming article by its school Headmaster Julius Seibold. For the sake of family members, other descendants of immigrants from Geradstetten, and any interested parties, we have translated this article into English. We have tried as best we can to remain true to the original text (and hope that those better versed in German can give us their advice for changes and improvements). Please click on the bold-faced title below for this article, as well as a short biography of Julius Seibold:
"Aus der Geschichte des Dorfes Geradstetten" [From the History of Geradstetten] by Oberlehrer Julius Seibold from the booklet "Heimattage Geradstetten 1960" [Hometown Days Geradstetten 1960]

Shown to the left is the coat of arms of Geradstetten. The symbol appeared on boundary stones between different plots of land. Its origin is obscure, but the "M" is thought by some to refer to an early parish of Winterbach (a neighboring town), St. Michael, predating the current St. Konrad, founded in the 1400's. The symbol with the town colors is repeated on the first thumbnail below, the cover of of a brochure entitled "Heimattage Geradstetten 1960, kindly lent to me by Margaret Vesper, a friend of the family. These pictures show the Geradstetten Lutheran Church, St. Konrad, some of the older houses, and a vineyard of the traditional type, prior to the modernization of the later 1960s.
Please click on each of the "thumbnail" pictures below for a full page version. Use your "back" arrow to return to this page.
1. Brochure Cover 2. and 3. Konrad Kirche 4. Schaal Haus 5. Schmaltzgasse 6. Wirthaus 7. Vineyards 8. Town council, 1960. The proud figure on the bottom right is my Uncle, Karl Siegle.
[ Home ] [ Biography ] [ Contact Information ] [ Quilts ] [ Blood and Village ] [ Albert Ballin Album ] [ Geradstetten ] [ Sedona Trails ]