[ Home ] [ Up ] [ Area Overviews ] [ Trails ]
Bill and Frauke's Sedona Trails website features day hikes from trailheads within half an hour's drive from Sedona. The dramatic red and orange of the Schnebly and Coconino red rock formations of this magical venue provide the background for superb winter hiking through the canyons and on the high shelves above them. Juniper and cypress forests add their evergreen color to this palette, with ponderosa and oak at the higher elevations. Gardens of agave, yucca, prickly pear and manzanita, not to mention Palmer Oak, abound. At altitudes between 4000 and 5500 feet, Sedona's winter months offer ideal hiking weather, with daytime high temperatures in the Fahrenheit 50s, abundant sunshine, and azure skies, punctuated by occasional winter storms that move in from the Pacific.
The Forest Service maintains a rich network of trails throughout the region. The ones described here may use portions of this network, but generally venture off-trail on lightly traveled routes, some that have existed for decades, others constructed by biking enthusiasts in recent years. Because these routes venture off-trail, this guide is meant for experienced hikers knowledgeable of local conditions and properly attired and equipped, with adequate food, water, and first aid supplies. On many routes the hiker may not see a soul and will be hours away from help should there be a mishap. Cell phone coverage is spotty. Cairns (or ducks) appear and disappear with the seasons. (See our comments about cairn courtesy below.)
Some of the hikes are from trailheads on unpaved roads which may be inaccessible depending on conditions. Forest Service roads 525 and 152C are usually well maintained. The access roads Vultee Arch/Dry Creek and Schnebly Hill are poorly maintained and often closed. They both can discourage even drivers with high clearance vehicles.
Cairns left by other hikers may be useful, especially when learning new hikes. There are many philosophical approaches here depending on the point of view. Hiker A believes: this is the forest primeval, leave no trace of man. He may destroy any cairns he sees. Hiker B believes: this is my forest primeval, leave my cairns alone but destroy all others. Hiker C, a member of the vast majority, believes: let's leave an occasional cairn but let's not go overboard. As always, let the hiker beware: anyone can leave cairns and they may not lead where you want to go.
Finally, let us broach a sensitive subject: who "owns" these routes? Should they be displayed on a public web site? Consider, some might suggest, the undesired impact that mass hiking could bring to Sedona's national forest and wilderness areas. Are not the official Forest Service trails adequate for the general public, the casual tourist?
In the matter of public resources, there is always a tension between common access and the tragedy of the commons, between information closely held in a narrow community or more widely shared with a diverse one. And if information is to be limited to prevent it from falling into the wrong hands, the question is always: by whom is the selection of the right audience and the means of dissemination to be made?
At bottom this is a matter of ownership. But ownership of the routes is a question that is fraught with historical and cultural complexity. Late 19th and early 20th century homesteader and cowboy markings apparent in many alcoves indicate a rich history of exploration that long predates recent times. Now that the lands are public resources, administered by the Forest Service for, presumably, the public good, sharing these splendid routes with serious and sensitive hikers would seem to further that good. We do worry with others that there can be too much of a good thing -- the ubiquitous helicopter and jeep tours in high season, for example, detract from the forest's natural ambience. But we do not think that our modest sharing of these trails will attract an influx of the unwashed masses bent on desecration.
For our intended audience, the serious and sensitive hiker, the maps which follow below provide an overview of the main Sedona hiking areas.
We thank all our Sedona friends for introducing us to its wonders. The reaction to our hiking site has to date, with a notable exception, been friendly. We encourage comments and suggestions: palmer.2@osu.edu.
Bill and Frauke
All five maps on this page are thumbnails that when clicked will open up into larger displays.
Scroll Down
Sedona Area Hiking--Various Access Points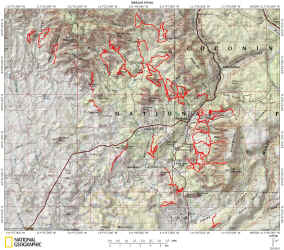 Huckaby, Morgan Road, Little Horse Access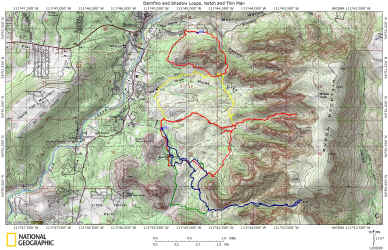 Long Canyon Rd, Dry Creek Road, Soldier Pass Rd Access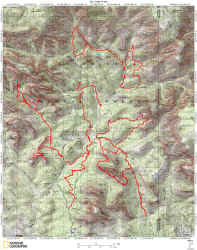 Jordan Rd, Soldier Pass Road, Dry Creek Road Access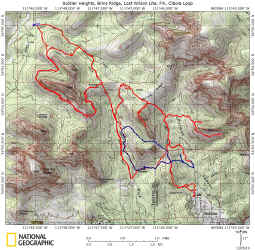 Access from Red Canyon Rd (Forest Service #123)