CMS CSC(EMU) FED Crate

The FED Crate hosts the DCC and DDU. It is a 21 slots 9U high by 220mm deep VME crate. It uses VME64x P1 backplane for power, and VME data, and it uses custom backplane at P3 position for high speed data communication between DDU and DCC, and CMS fast control.

Fiber Optic Patch Panels
Installation Notes (html, doc, pdf)
Mapping Files (combined pdf, xls)

Patch Cables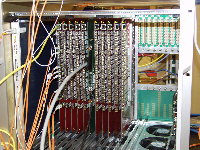 FED Crate development presentation

FED Crate Photos from USC55.