[ Up ]
[ ballinalbumtext.htm ]
[ 1919--1934 ]
[ Berta'a 1934 Trip ]
[ 1935-1940 ]
[ 1940--1948 ]
[ 1949--1950 ]
[ 1953--1954 ]
[ 1955--1965 ]
This is the earliest picture of Christian Palmer (top left) and his bothers Wilhelm (top center) and August (top right), and his parents Friedricke and Johannes, bottom. The picture is dated January1919 and has the following notations in Christian's hand on its back, to which have been added subsequent dates of death:
Johannes Age 57 1862 - 1932 [Imanual Johannes]
Friedericke Age 52 1866 -1922 [Friedericke Maria Meier]
Wilhelm Age 17 1902 - 1972
August Age 20 1899 - 1980
Christian Age 22 1897 - 1981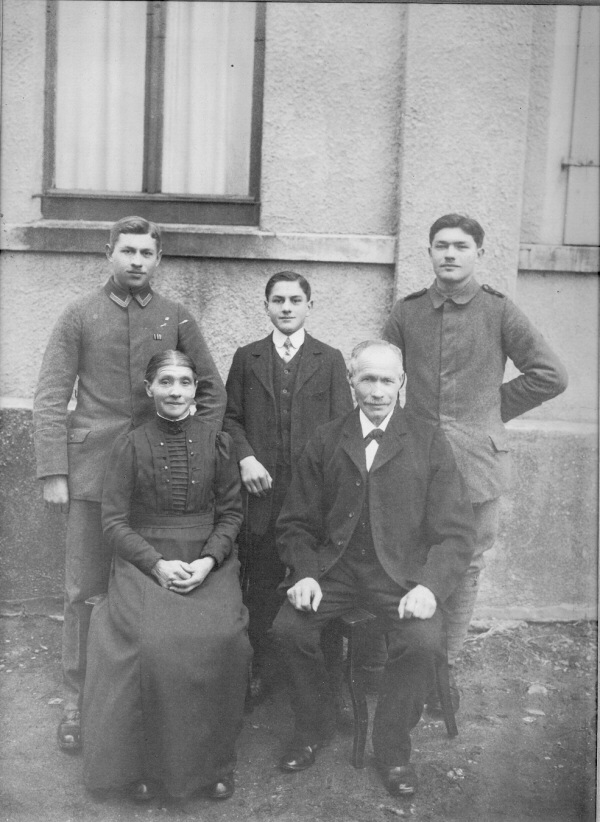 ---

Christian emigrated to the US inthe mid 1920s, returned to Germany for a visit, where he met Berta [Berta Klara Lederer, 1908 -- 1991] at a wedding. She soon joined him in New York. They were married in August of 1929. Here is their formal wedding portrait: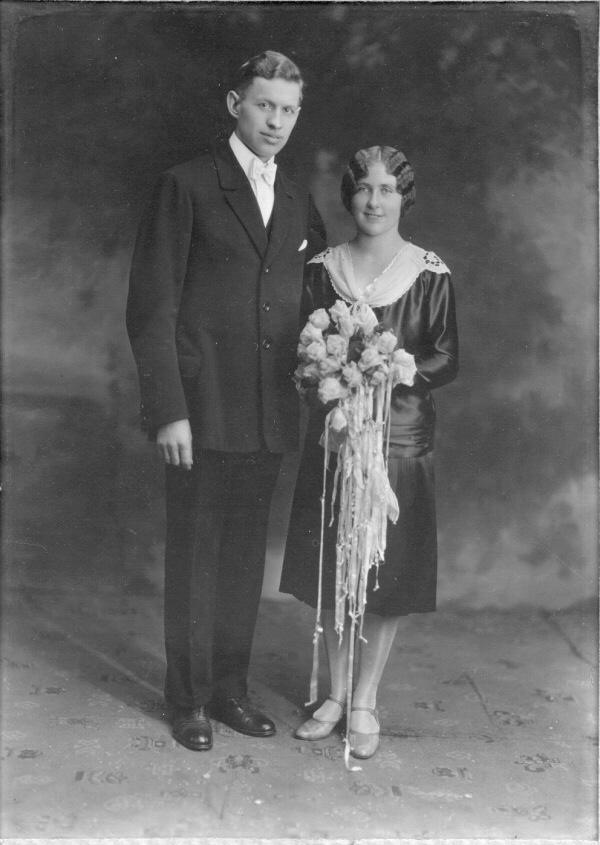 ---
This is reportedly a honeymoon photograph of Berta and Christian on a lake in New Jersey, August 1929: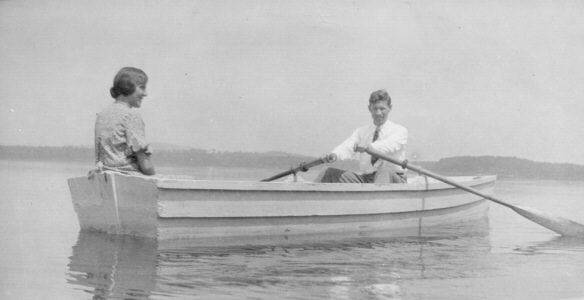 ---
The following set of three photos show (1) Christian (sitting shipboard, right) on his way over to the U. S. (2) A typical house in Geradstten in the 1920s. (3) Christian and Berta on their honeymoon way.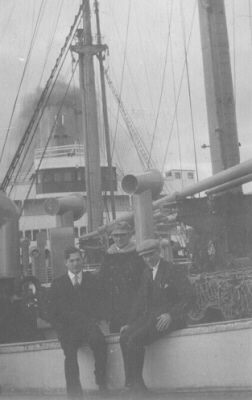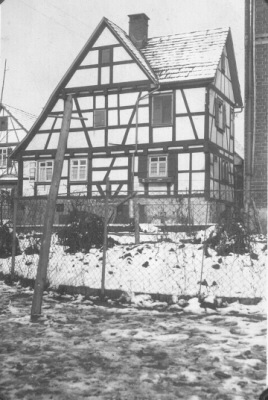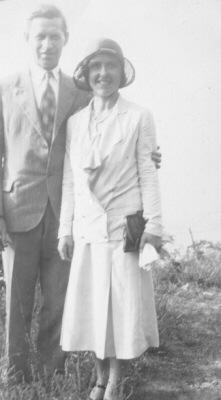 ---

1) This grouping shows Grandfather Johannes Palmer [1862 -- 1932] standing before
his son Wilhelm [1902 -- 1972] and Wilhelm's wife Anna Lederer [1904 --1968] holding
their first born son Wilhelm [1928 -- 1991] . Standing next to Johannes is Mr. Kittleberger,
father of the Kittleberger of Modena, New York, who was a friend of Chistian and Berta.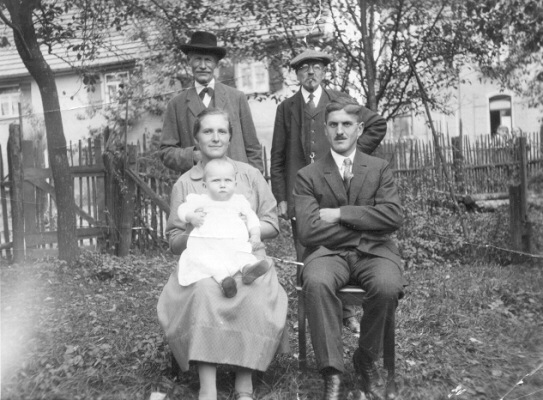 ---

The following two photos, of a 1930 outing to Bear Moutain, show Berta and Christian and their (Geradstetten) friends Karl (Charles) and Emma Stangle, and their daughter Magaret: (1) The Stangles, Berta right, and (2) Left to right Christian, Berta, Emma, and Margaret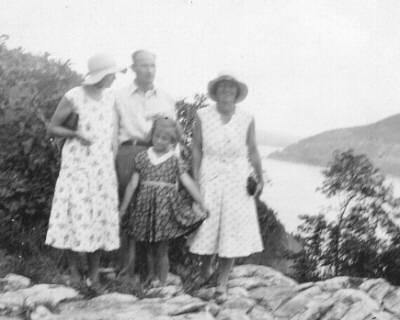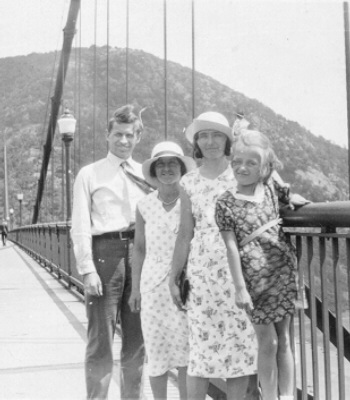 ---
The first of the followiing show Berta in the Summer of 1933, possibly at Bronx Park The second two are of Berta and her first son Alfred at his christening in 1934 in the Bronx, Snake Hill, 180th Street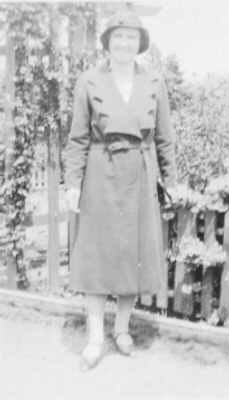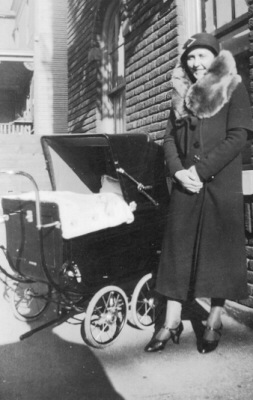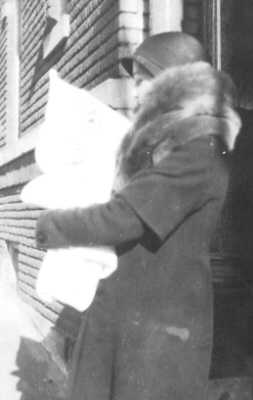 ---
The next two photos show Christian at Alfred's christening, and baby Alfred, probably at the same event (same day anyway).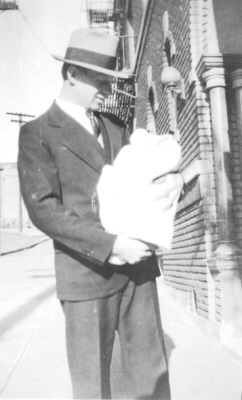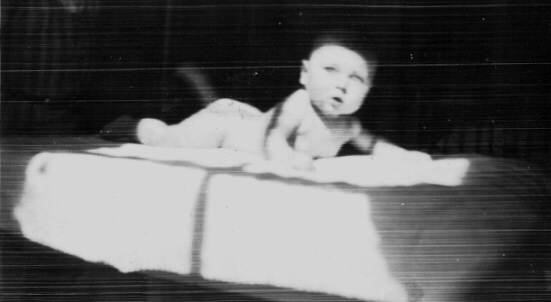 ---
The next two photos show (1) Berta with Alfred and cousin Margaret [Margarete Palmer Port, 1929] at Uncle August's place in Staten Island in 1933. (2) Margaret Stangle flanked by Aldred's cousins Magraret (right) and Charlie [Charles William Palmer, 1927 -- 1988] (left), at the christening, Snake Hill.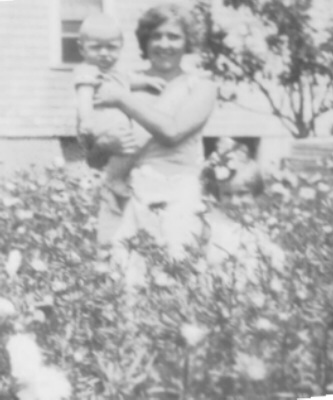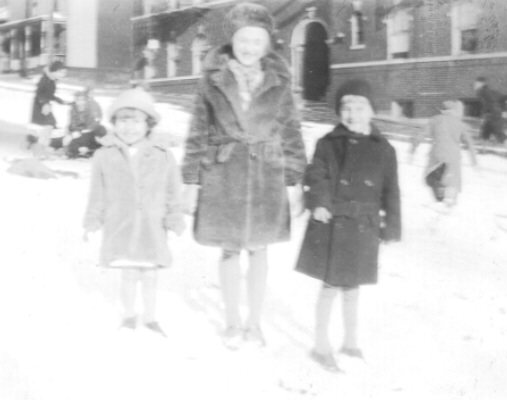 ---

Charles and Margarete Palmer, 1933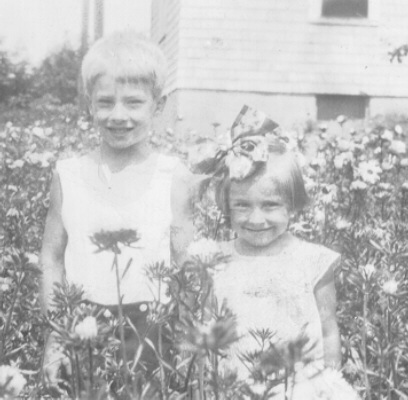 ---

Here we see (1) Alfred at 8 months and (2) a bit older with Berta, both in 1933, and (3) Alfred with Christian (1934?)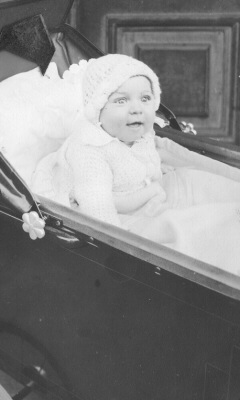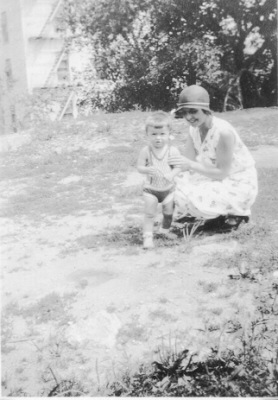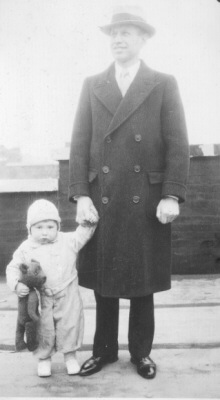 ---
This last shot in this sequence shows Alfred and Berta, probably shortly before their 1934 trip back to Geradstetten.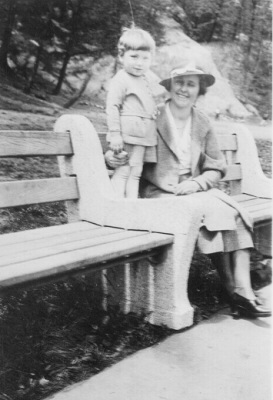 [ Home ] [ Up ] [ ballinalbumtext.htm ] [ 1919--1934 ] [ Berta'a 1934 Trip ] [ 1935-1940 ] [ 1940--1948 ] [ 1949--1950 ] [ 1953--1954 ] [ 1955--1965 ]