More shots from a 1940s visit to the Kittlebergers: (1) The boys and Eleanor in the garden house, and (2) Mrs. Kittleberger, Eleanor, Berta and her boys.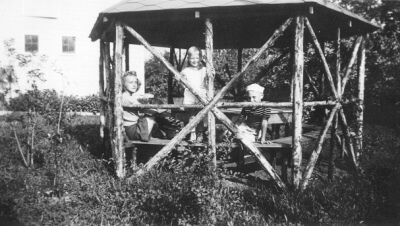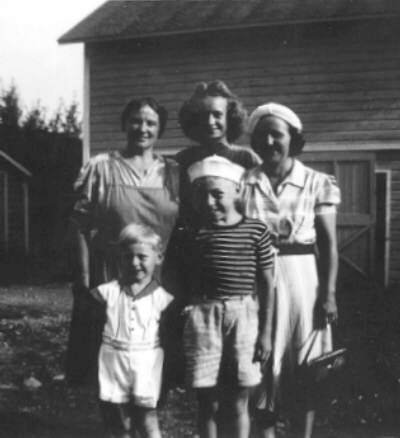 ---
Forest Hills around 1943: Blurry, but historic; if the blinds were opened, there would be a view of 71st Avenue.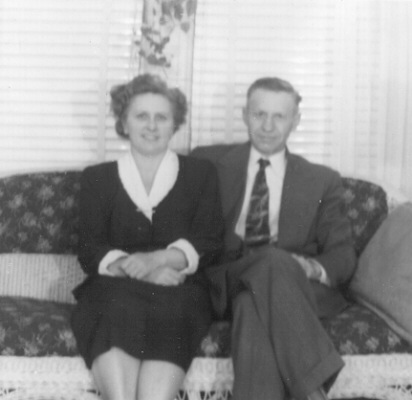 ---
This family grouping from about 1947 shows Karoline and Christian Lederer, seated. Standing behind them, left to right, are their grandson Karl Siegle, daughter Friderike Siegle, son-in-law Karl Siegle, grandson Walter Siegle, daughter-in-law Helene (wife of Wilhelm Lederer) and her daughter Hilde.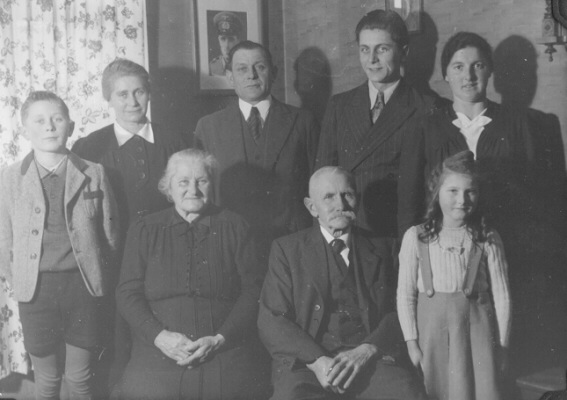 ---
The Karl Siegle family on the same day as the previous photo. Please note the picture on the wall at the left is of Wilhelm Lederer, who died in WW II. The picture on the wall between Walter and Karl is the 1929 wedding picture of Berta and Christian shown previously. The picrture on the wall left is that of Wilhelm Lederer, father of Hilde and first husband of Helene in the previous picture.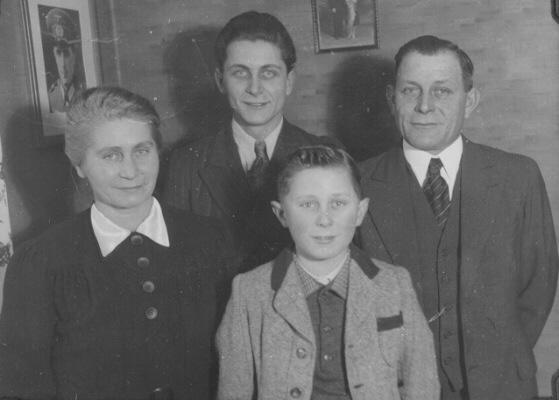 ---
(1) Probably young Karl Siegle around the time of previous two photographs, in the living room (Stube) of the Siegles. (2) Berta and her two boys, on a Hudson River Dayliner, about 1946.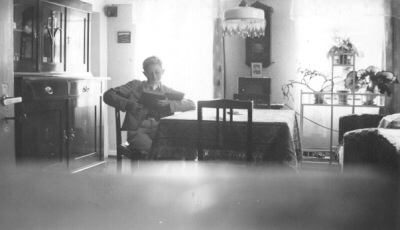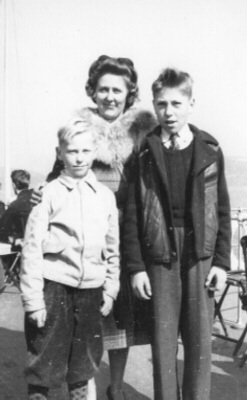 ---

Karl Stangle's farm, about 1947: Alfred and Bill, and friends. Note out house on hill (used only in emergencies.)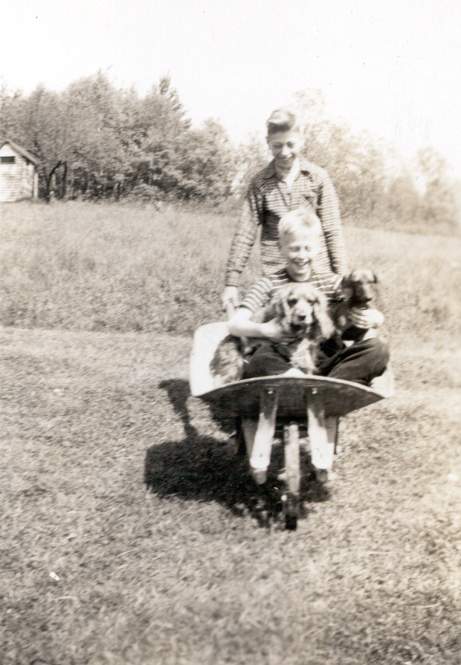 On the Stangle Fram: Christian, Berta, William, Emma, Karl, and Margaret Stangle, and Alfred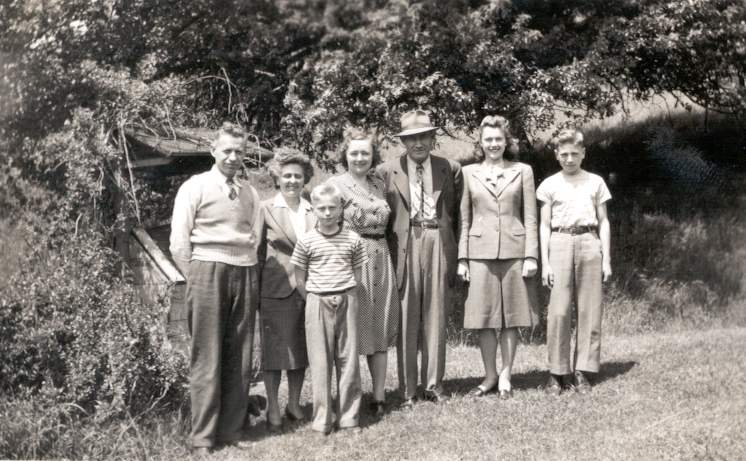 On the Stangle Farm: The Christian Palmer Family, with cousin Margaret Palmer, holding Ginger.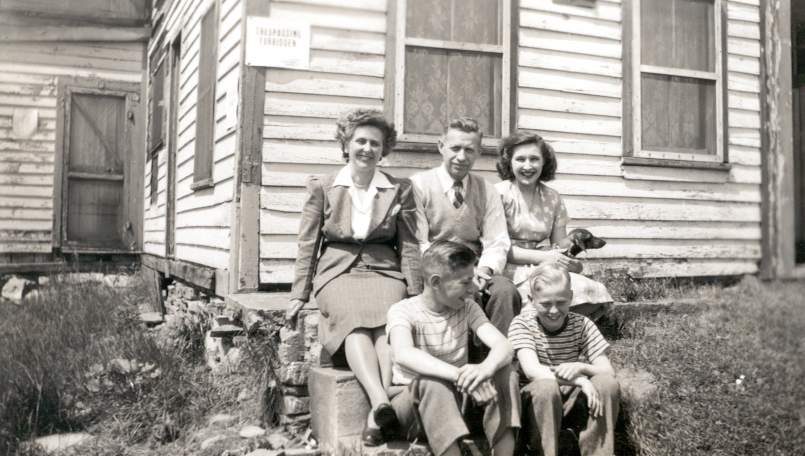 ---
The Wilhelm Palmer Family around 1947: Left to right, younger son Paul, mother Anna, father Wilhelm, and oldest son Wilhelm.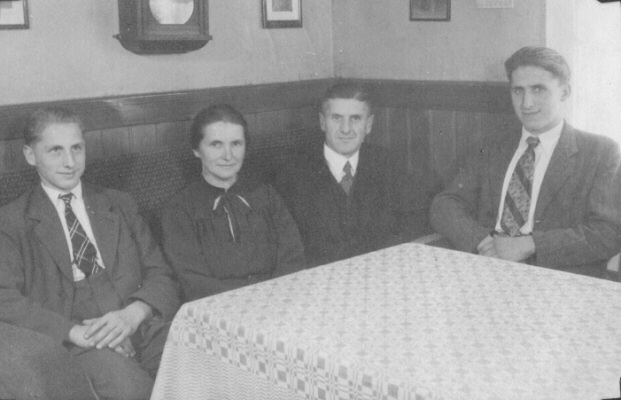 ---
(1) The Palmer boys ready for muscle beach around 1947. (2) In the Forest Hills house dinning room, left to right: Mrs. and Mr. Charles Stangle, their daughter Margaret, William, Berta, and Christian.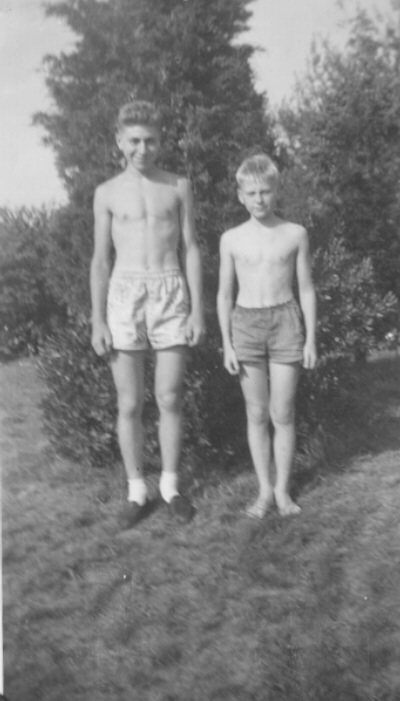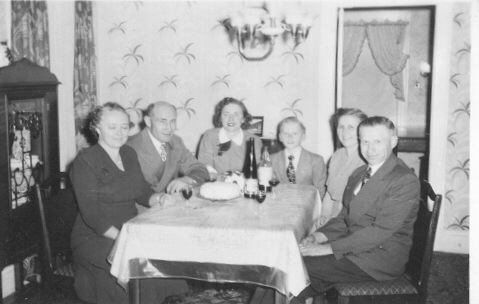 ---
Confirmation photographs of Karl Siegle, alone, and flanked by his cousins Else (geb. Siegle) on his left and Hilde (geb. Lederer) on his right.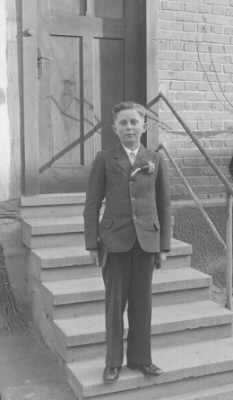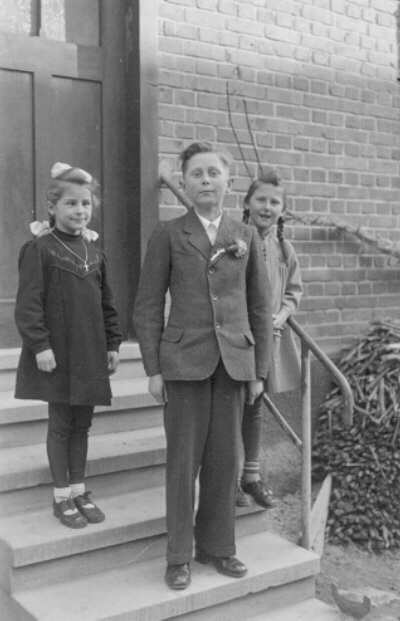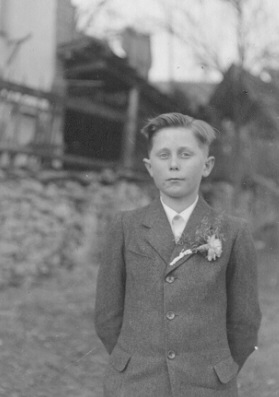 ---
Alfred and William before the family Plymouth, around 1948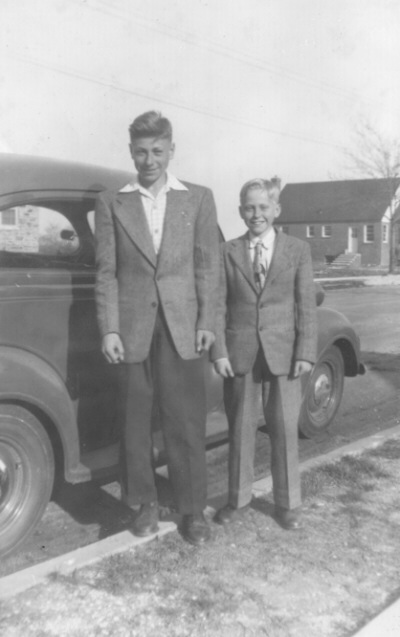 [ Home ] [ Up ] [ ballinalbumtext.htm ] [ 1919--1934 ] [ Berta'a 1934 Trip ] [ 1935-1940 ] [ 1940--1948 ] [ 1949--1950 ] [ 1953--1954 ] [ 1955--1965 ]