[ Up ]
[ ballinalbumtext.htm ]
[ 1919--1934 ]
[ Berta'a 1934 Trip ]
[ 1935-1940 ]
[ 1940--1948 ]
[ 1949--1950 ]
[ 1953--1954 ]
[ 1955--1965 ]
(1) Familie Karl Siegle (parents Karl and Friderike) and sons Walter [b.1929] and Karl [b. 1934] (2) Christian and son Alfred in 1937.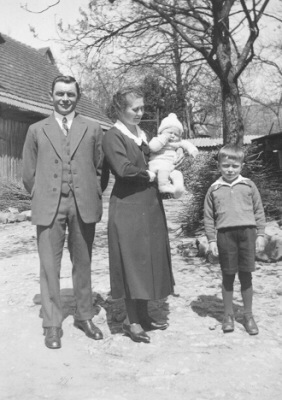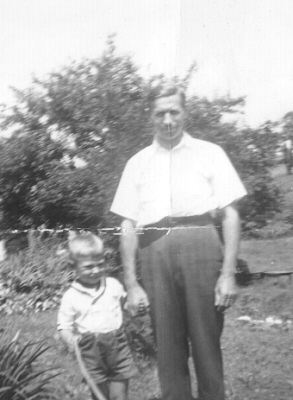 ---
(1) Probably Fronaeker 11 house, built for Wilhelm Lederer [1910 -- 1941] and his wife Helene Knauer [b. 1916], in the years before WW II. Wilhelm, a soldier in that war was killed in action in Kiev, leaving Helene and their daughter Hilde [b. 1940]. Karoline Lederer lived in this house with Helene and Hilde until Karoline'sdeath in 1968.

(2) Baby William in the arms of father Christian Palmer in 1937.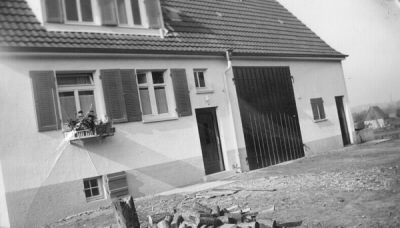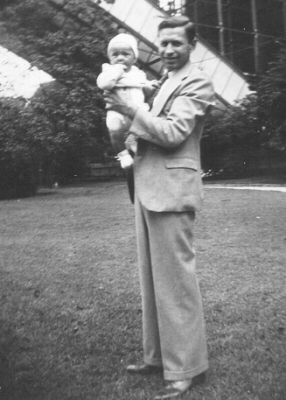 ---

Christian and Berta and their boys Alfred and William, in 1937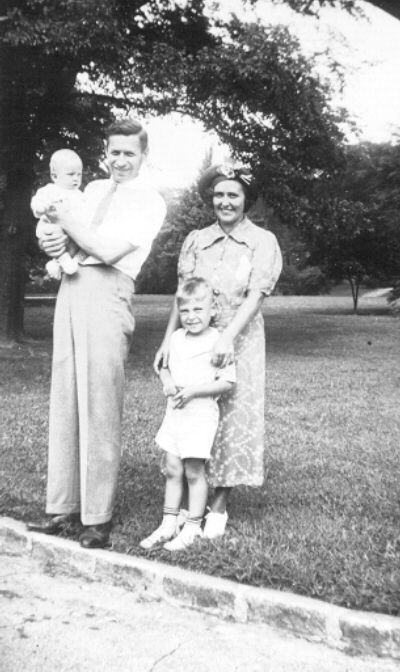 ---
(1) Sailor Alfred, William and Christian in Maspeth, 1938. (2) Berta and boys, but where is that bridge?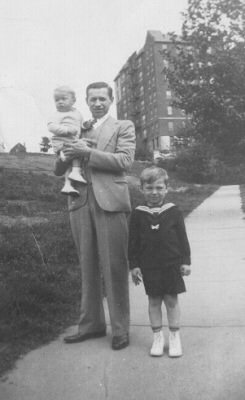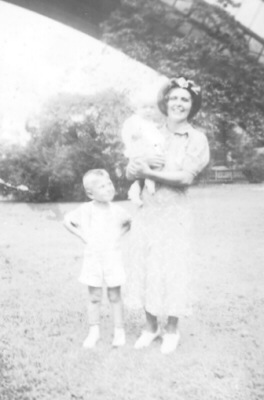 ---
(1) William as toddler, 1938, with Berta in Maspeth. (2) Another shot of Fronaeker 11 under construction, 1938.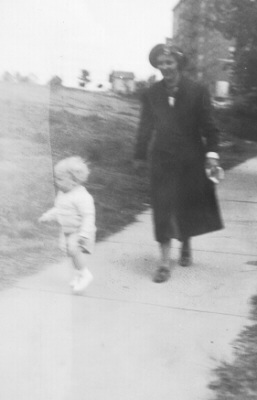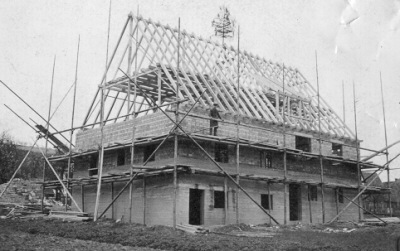 ---

Maspeth in 1939: Alfred and William and neighbor girl Alice Neuscheler.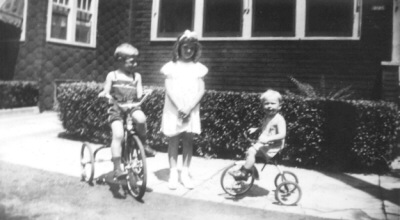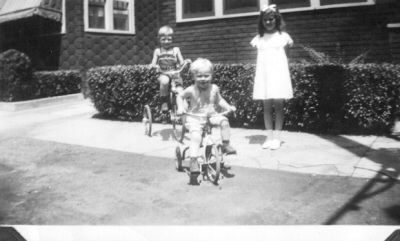 ---
(1) A great family grouping before Christian's Willys roadster:
From left to right, Otto Palmer [b. 1938] in the arms of his father August,
his daughter Margarete [b. 1929], Christian with his sons William and Alfred,
with August's son Charles [1927 -- 1988] on the extreme right.

(2) The companion shot to the one above, same day, showing August's Greenhouse.

(3) Alfred with stick in hand: Is he about to whack his little brother?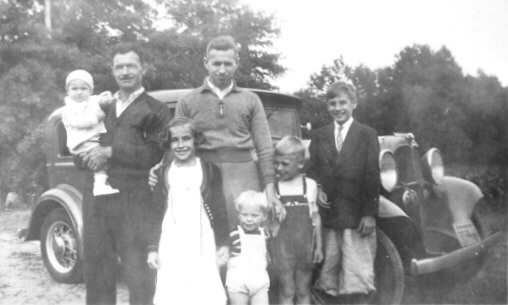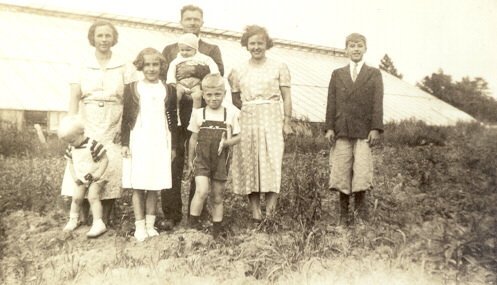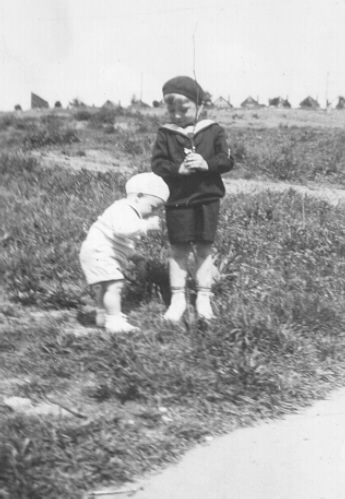 ---
Alfred and William at the Kittleberger's in Modina, New York, with their
granddaughter Eleanor Authenried, about 1940.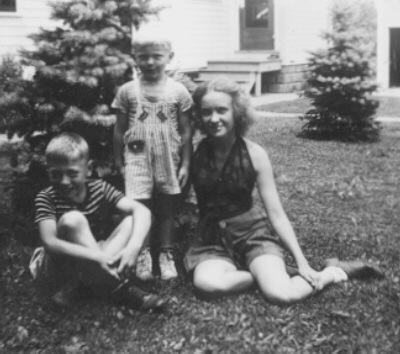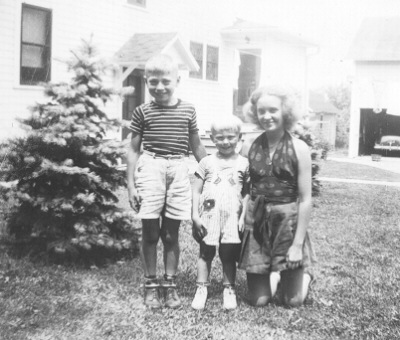 ---
Proud Alfred on a pony in Palmetto Street, around 1940.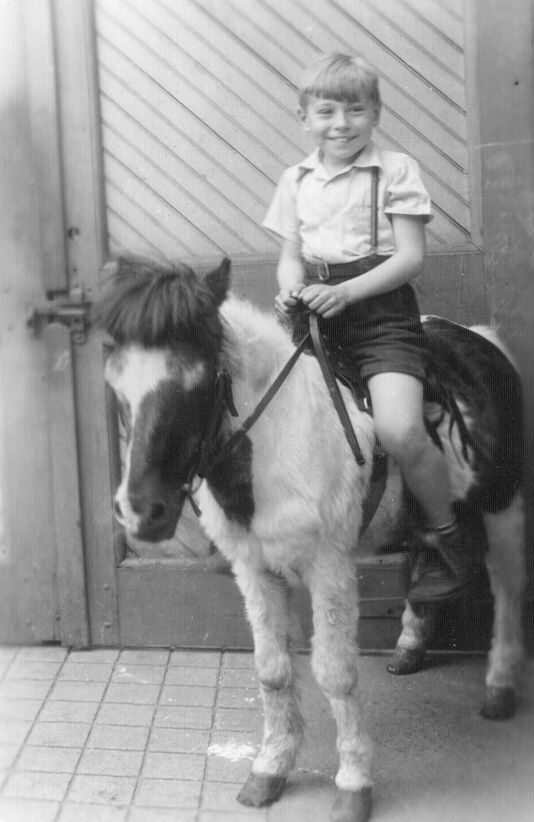 ---
William in back yard of 123 Palmetto Street, and standing before the front door, around 1940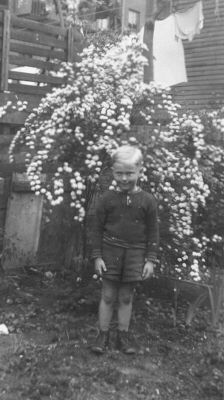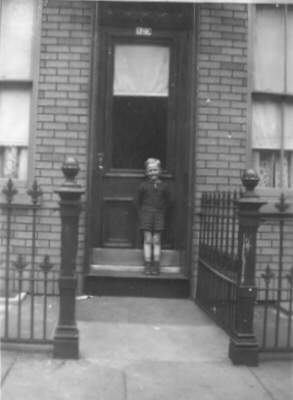 [ Home ] [ Up ] [ ballinalbumtext.htm ] [ 1919--1934 ] [ Berta'a 1934 Trip ] [ 1935-1940 ] [ 1940--1948 ] [ 1949--1950 ] [ 1953--1954 ] [ 1955--1965 ]